This Brooklyn High School Found a Way to Honor Its Graduating Seniors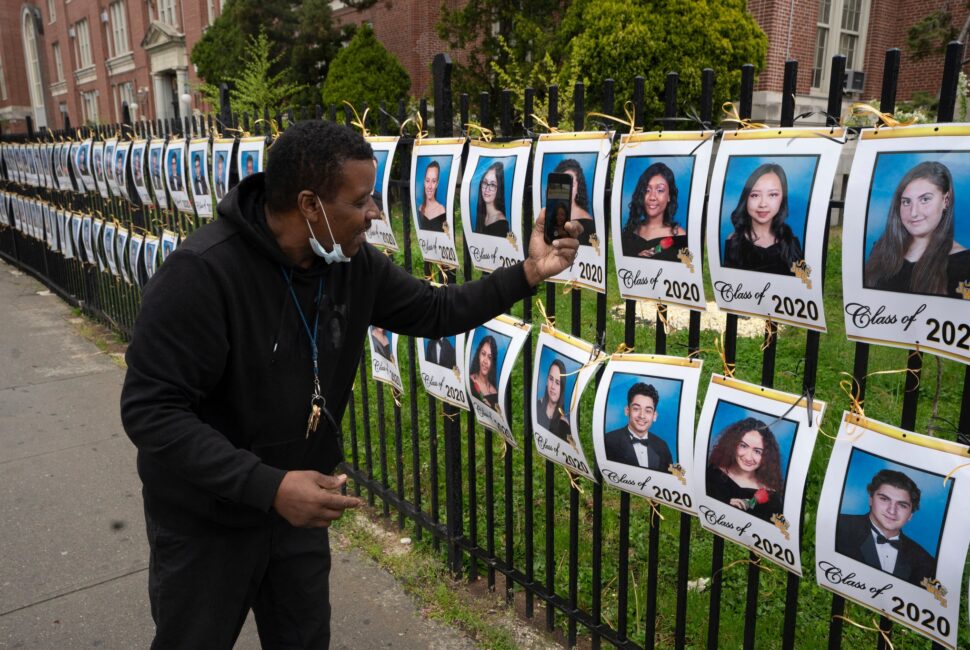 With almost all Class of 2020 ceremonies canceled, high schools like James Madison have devised creative methods to celebrate their departing students.
James Madison High School in Brooklyn has some alumni you've probably heard of, including Senators Chuck Schumer and Bernie Sanders, Justice Ruth Bader Ginsberg and Judge Judy, and the musician Carole King.
Now, all of a sudden, the 750 graduating seniors at James Madison are just a little bit famous, too. Administrators and staff members at the school have printed out their yearbook headshots, laminated them by hand and hung them on the fence surrounding the school.
In this, the strangest of springs, high schools around the country are looking for creative ways to honor their seniors, who will step out into the world without having walked across a graduation stage, gone to prom, or luxuriated in the gentle slacking of a senior spring. They are trying, somehow, to make graduation feel special, even without the customary pomp and circumstance.
Jodie Cohen, the principal of James Madison High School, is especially in touch with the needs of this year's seniors because her son, Aidan, is one of them. (He said that as a freshman he would run away from his mother in the halls. Now, with school happening at home, he sees her "every second.")
One of the largest high schools in New York City with 3,800 students, James Madison sits in a stately brick building in the Madison section of southern Brooklyn. This year, Ms. Cohen said, it has seniors going to Yale and Harvard, among many other colleges, as well as students with special needs who will begin training programs for jobs in retail and other industries. Aidan will be going to Gettysburg College in Pennsylvania, where he'll play football.
Ms. Cohen said that, if it's safe, the school would hold a barbecue for its seniors in August, where they will receive their laminated pictures and their yearbooks.
Aidan said that while he is disappointed not to have a prom and graduation, the hardest part is missing the simple day-to-day.
"When I left that last Friday, I didn't know that was my last day, and it's so sad to think I'll never be a student there ever again," he said.
Still, he said, he appreciated the pictures his mother posted around campus, which reached halfway around the property. The school also made signs to give to every graduate, so "Congratulations Aidan Class of 2020" now hangs from their porch.
Janelle Moe, another senior at the school, said that some of her teenage classmates were — parents will be shocked to hear — embarrassed to have their pictures up on the fence, but she thought it was great. "I think honestly this is one of the most creative things I've seen," she said.
The Class of 2021 is hoping for a more traditional senior year, with perhaps one new tradition added on: "Our juniors are already asking if we can do this next year," Ms. Cohen said.
*excerpt from NY Times article 5/7/2020, Elizabeth A. Harris