Graduation is always right around the corner!
The cap and gown is one of the most easily recognized symbols of hard work and achievement. For your students, this day is a culmination of years of hard work and dedication to learning. Browse our high quality products below, and get in touch with us to schedule a consultation. Don't leave your graduation day to chance!
OUR PRODUCTS
Caps, Gowns, & Tassels
Caps & Gowns
Our Caps & Gowns are available in a variety of colors and sizes to match your school's style. The gown size is determined strictly by the height (caps are one-size-fits-all), and we do carry plus-size gown options. Our tassel inventory is vast, and your local rep will be happy to work with you to find the option that best fits your needs. Don't see your school color here? Let us know and we can discuss custom ordering with you (minimum quantities may apply).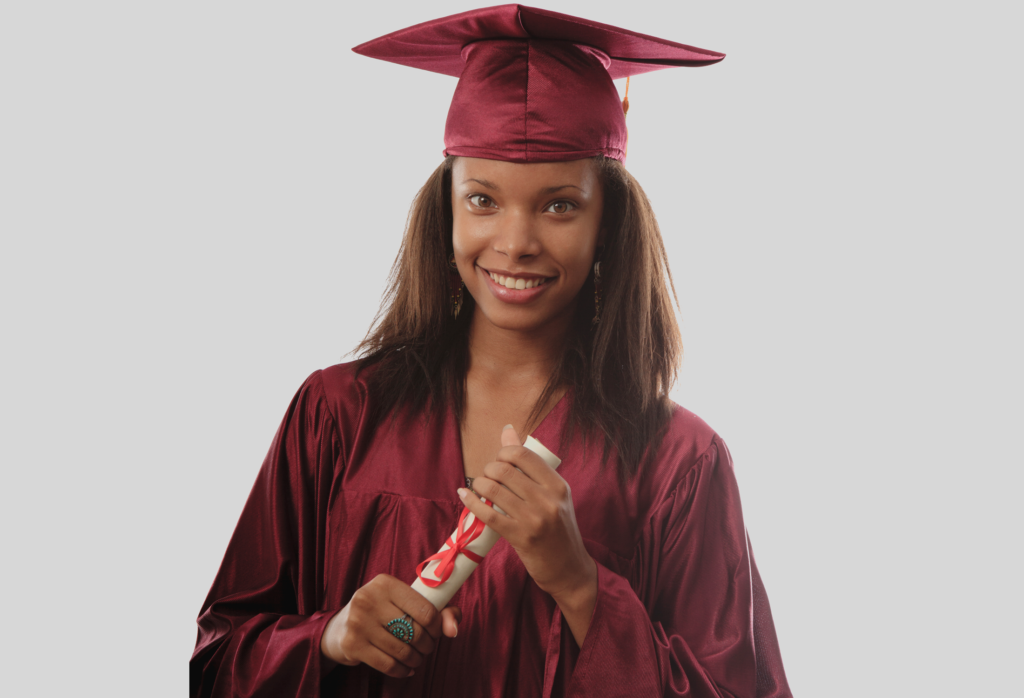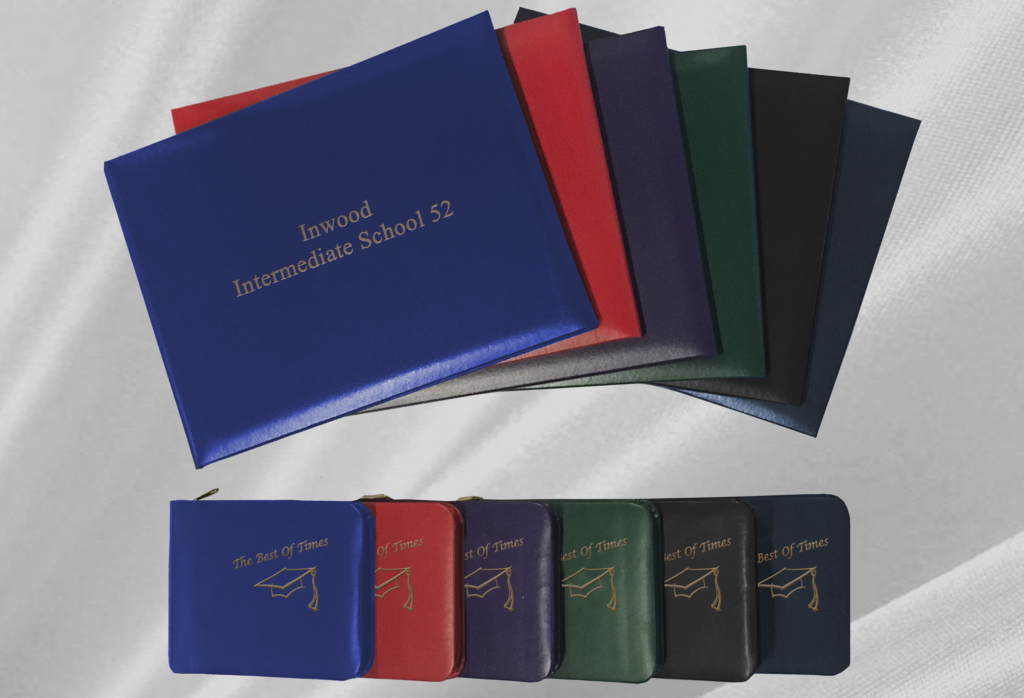 Diploma Cases & Autograph Books
Our deluxe padded diploma cases are available in two sizes - 6"x8" and 8.5"x11". They are fitted with 8 corner tabs to hold your diploma on one side, and a photo of your choice on the other! This will make for a lifelong keepsake & memory of your students' success. Our zippered autograph books make for great end-of-year elementary & middle school gifts, where students can write notes to each other before parting ways for the summer.
Cords, Stoles, and Accessories
For those students that have gone above and beyond academically or extracurricularly, it's time to show some love! Our stock colors of cords and stoles are gold, white and royal - but our catalog of available options is vast. A quick discussion with your local rep will help you determine your needs for your graduation day.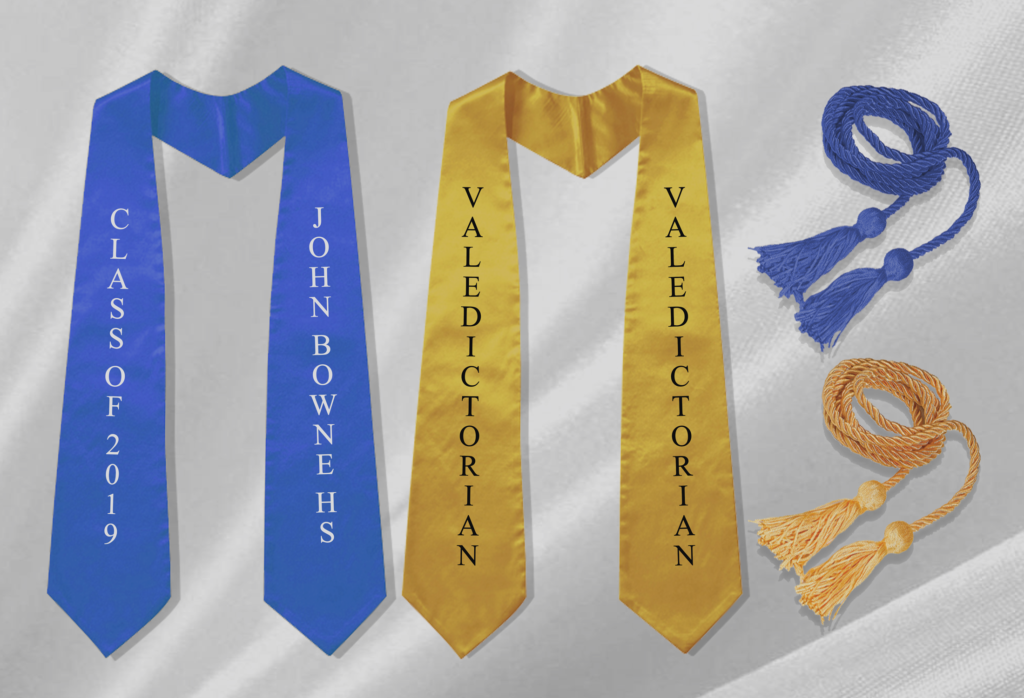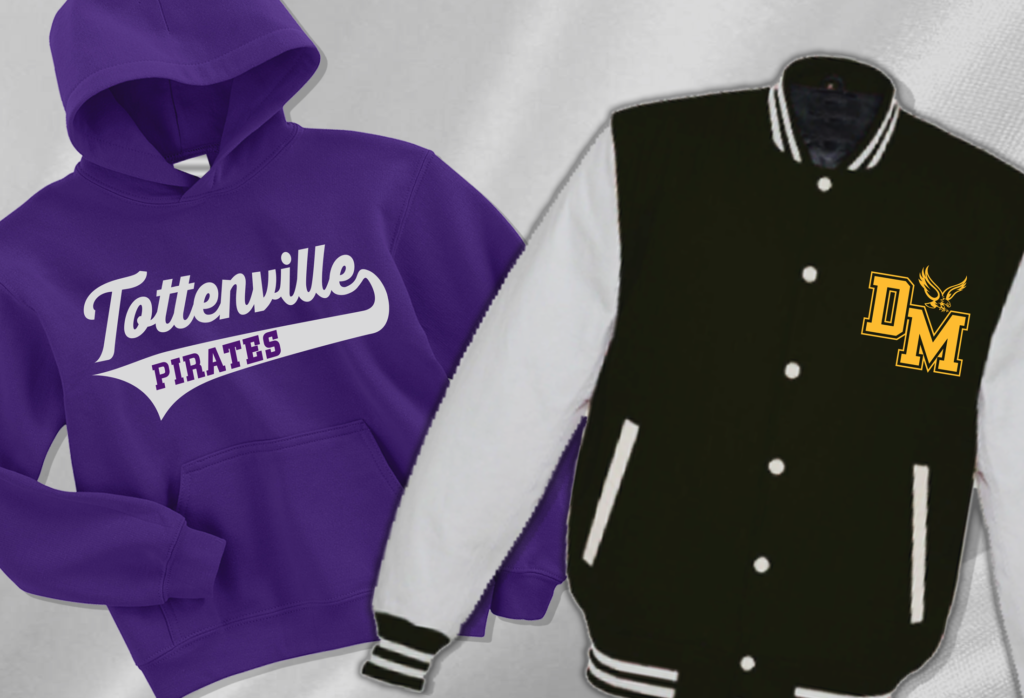 Senior Swag
Although not to be worn on graduation day, senior swag is an important representation of the class spirit. Begin designing some of our most popular items today.
The Perfect Graduation Timeline
Fall
Meet with your local rep to iron out all of your graduation details Begin designing senior swag and collecting student sizes
Winter
Finalize cap/gown & apparel measurements and submit to Smooth
Spring
Review Smooth's comprehensive report of your complete order, and request any additions or changes
Late Spring
Receive delivery of your caps, gowns, and any senior apparel not yet delivered, and let us know of any last-minute accessories you need
Graduation!
Sit back, relax, and send your seniors off the right way!
"As the Senior Advisor, I have been working with Smooth for the past 6 years and rely on them to supply our senior class with everything needed for graduation. Their products are well priced and customer service unmatched. Being a large school, it is sometimes difficult to get the entire class to adhere to deadlines. Working with Smooth makes my job so much easier!"
Jacqueline S. Hoefferle
Senior Advisor, John Bowne HS
"PRHS has been doing business with Smooth for the past 4 years. During this time they have provided our school and community with exemplary service, quality products, and affordable prices. The company is always there when you need them and their customer service is prompt, professional, and helpful."
Andrew Greenfield
Assistant Principal, Port Richmond High School
"Smooth always offers us high quality products, a friendly presence, and tireless customer service. We use them each year for our 8th and 12th grade graduations, senior hoodies, and yearbooks. Their designated team for our senior hoodies and yearbook projects has made both of those projects outstanding. It is always a pleasure working with Smooth!"
Cecilia Marshall
Parent Coordinator, Life Sciences Secondary School
"Smooth has made the process of ordering caps and gowns a breeze for me and my committee. Their products are a hit with our students and I could not be happier with them!"
Evangelia Papacostas
Senior Advisor, Evangelia Papacostas
"Working with groups as large as 400 students is often challenging but Smooth Sportswear makes it look easy.  They take our numerous phone calls and cheerfully modify our orders as needed. Smooth is always willing to listen to ideas and work with us each year to make our t-shirts special and unique for each graduating class."
Dominick D'Angelo
Principal, IS 228 David A. Boody
Contact your local rep today!