These 17 educators just won top honors from New York City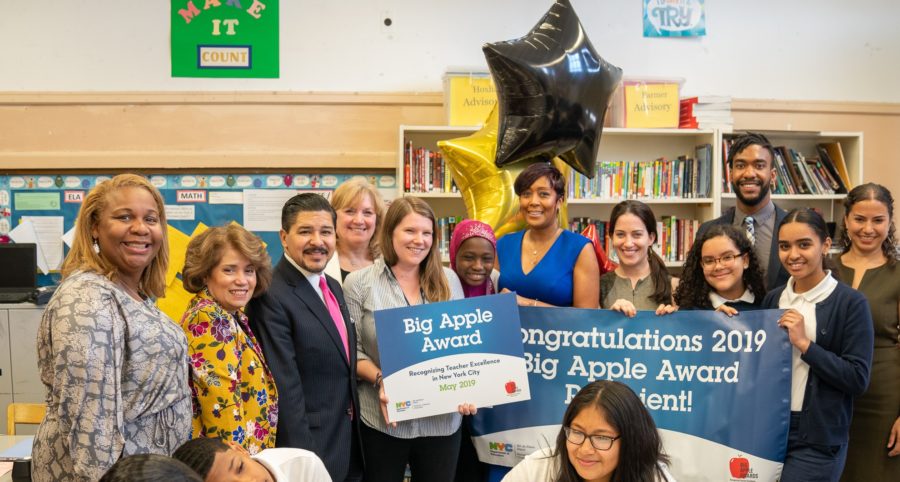 A teacher who used cell biology to help students understand the opioid epidemic's effects on Staten Island. An educator who supports immigrant students earning high school equivalency diplomas. And a physical education teacher who helps students with disabilities participate in hockey and swimming.
Those are some of the 17 educators named for Big Apple Awards Friday, a competitive annual prize that rewards "exceptional success" in instruction, fostering student learning, and contributions to the school community.
The winners were selected by a panel of education and teachers union officials from a pool of 7,100 candidates, most of which were nominated by students and parents, officials said. Each winner was surprised in recent weeks in their classrooms by visits from top education department officials, including Chancellor Richard Carranza.
Also among the awardees: Nicole Feliciano, a teacher at Manhattan's West Prep Academy, who was featured in a Chalkbeat story about an integration debate roiling the Upper West Side. The winners represent every borough; almost half are high school educators.
"I still remember my kindergarten teacher, Mrs. Ellis, who made me feel safe, welcome, and loved. She helped put me on the path to success by teaching me to love school and love learning," Carranza said in a statement. "That's what teachers do—they change lives. The Big Apple Award winners exemplify this by inspiring our students to achieve greatness every single day, and I am thrilled to honor this year's winners."
Here are this year's winners, who will have opportunities to meet with each other and serve on an advisory group to the chancellor:
Melissa Aguirre (Middle School English Language Arts Teacher, J.H.S. 217 Robert A. Van Wyck, Queens)

At a young age, Melissa Aguirre became the legal guardian to her 14-year-old cousin from the Dominican Republic, who lacked formal schooling and could not read or write in Spanish. When finding a bilingual program for her proved challenging, Ms. Aguirre made the decision to become a bilingual ELA teacher herself. "Engaging students has meant holding them to high expectations with high levels of support," Ms. Aguirre explains. She tells her students: "Every day we get up and work hard with integrity to get smarter like the scholars we are."

Jamie Cacciola-Price (High School Theatre Teacher, Frank Sinatra School of the Arts High School, Queens)

Jamie Cacciola-Price brings his positive attitude to school each day and aims to spread that joy to everyone he encounters. Mr. Cacciola-Price's theater class blends stage skills and techniques with empathy, public speaking, research, and writing. Students' voices and opinions are honored equally, and Mr. Cacciola-Price takes every opportunity he can to take his students to plays and even on international trips. His play selections reflect diverse voices to mirror his students' experiences.

Elizabeth De La Garza (High School English as a Second Language Teacher, Pathways to Graduation—Jamaica Learning Center, Queens)

Every day, Elizabeth De La Garza works to ensure the success of immigrant students in the District 79 Pathways to Graduation program. In addition to helping her students earn their High School equivalency diplomas, she also puts them on track to meet their post-secondary goals through the College Now and Workforce Development Internship programs. Ms. De La Garza explains: "I want my students to see education as their ticket upward…seeing their peers as living examples is the best evidence there is."

Rita Fattorusso (Early Childhood Teacher, The 47 American Sign Language and English Lower School, Manhattan)

Rita Fattorusso teaches a dual language class that is comprised of deaf students, children of deaf adults and developing-hearing children. Ms. Fattorusso provides a dynamic educational environment to all her students and ensures they leave her classroom as confident learners who are able to express themselves verbally or through sign language. As a former deaf student in the public school system, Ms. Fattorusso's devotion to her students is personal. She says: "I vowed that when I became a teacher, I would provide a rich learning environment for my students." Outside of the classroom, Ms. Fattorusso has played a leadership role in the school community by establishing a community pantry that serves the entire school.

Nicole Feliciano (Middle School Social Studies Teacher, West Prep Academy, Manhattan)

Three years ago, Nicole Feliciano noticed some of her students were having trouble reading the board, so she secured funding to provide her students with free eye exams and a pair of glasses. Of the 30 students who were examined, 29 received glasses, which proved to be a game-changer for their learning and classwork. "She is our force through community outreach and social change, and our biggest cheerleader," one parent explains.

Yadira Hans (Elementary Education Teacher, P.S. 249 The Caton School, Brooklyn)

Yadira Hans knows that her work in the classroom has a direct impact on her community and city as a whole. 90 percent of the students in her fourth grade class are multilingual learners, and many are uncomfortable participating in class at the start of the school year. But through Ms. Hans's instruction and routine, students are able to build self-efficacy and gain confidence. Last year, while on maternity leave, Ms. Hans created YouTube videos for both parents and students to support them in preparing for their reading and writing exams.

Emilie Jones-McAdams (Middle School English Language Arts Teacher, I.S. 303 Leadership and Community Service, Bronx)

Emilie Jones-McAdams is the founder of I.S. 303's first ever Gay Straight Alliance, which planned and facilitated a student panel discussion at the school's most recent Women's Summit in March 2019. "As a gay, southern woman who teaches in New York City, I place an importance on my classroom identities, and how celebrating and understanding a range of identities is essential," shared Ms. Jones-McAdams. She also received a Disney Musical Grant for her school, which provides students the opportunity to perform on Broadway.

Paraskevi Langis (High School Biology and General Science Teacher, Gaynor McCown Expeditionary Learning School, Staten Island)

Paraskevi Langis is preparing her students to contribute their knowledge and learning to the world beyond the classroom. Through a field research project, Ms. Langis's students created and implemented a tick protocol to prevent their classmates on the cross country team from contracting Lyme disease. Ms. Langis's students also delved into the impact of the opioid epidemic on Staten Island through the study of cell biology. Her students hosted a town hall and presented their findings to the Staten Island Borough President and District Attorney.

Alan Merced (High School English as a Second Language Teacher, The College Academy, Manhattan)

As a Multilingual teacher, Alan Merced adapts new teaching methods to meet his students' unique needs. "My teaching philosophy is based on the notion that educators must use strategies that help a student want to learn, above anything else," he explains. He is also the Saturday and vacation academy teacher for ELA, and plays chess with his students during lunch. Additionally, Mr. Merced works as a collaborative coach to support and advise the Department of Education's Teaching Fellows.

Kimberly Middleton (High School Special Education Teacher, Millennium Brooklyn High School, Brooklyn)

Kimberly Middleton challenges her students to analyze both educational and societal issues, pushing them to think critically in the classroom and beyond. Ms. Middleton helped redesign the Living Environment curriculum to make it more student-centered and reflective of larger ethical considerations. She also started a step team at her students' request, empowering them to express themselves through performance and to celebrate their cultures. She explains, "I'm invested in them as students and people, and want to empower them to be successful on their own."

Lamar Ok (Elementary School Teacher, KIPP Infinity Charter School, Manhattan)

Lamar Ok's positive energy can be felt in his third-grade classroom, where he sets high expectations, and ensures all students contribute to the conversation, are given positive feedback, and work together to build a positive learning community. Principal Daisy Salazar reflects, "The relationships Mr. Ok has built with students stand the test of time, and students continue to spend mornings and afternoons with him after third grade. As an educator for over 12 years and leader for over four years, I've never come across a teacher like Lamar Ok."

Amanda Palmieri (Special Education, PS X10, Bronx)

Amanda Palmieri's enthusiasm for teaching is infectious and can be felt the moment you walk into her classroom. She develops relationships with her students based on respect, bringing her genuine and most authentic self to the classroom every day. Her rigorous instruction, ongoing feedback, and emphasis on self-monitoring and personal accountability skills have resulted in impressive academic and social gains. Many of her students will move on to general educational settings next year.

Karen Pierre-Charles Byrd (Elementary Education Teacher, P.S. 59 William Floyd, Brooklyn)

When you enter Karen Pierre-Charles Byrd's classroom, you feel the genuine care that she gives to every learner. As her classroom motto states, "You never know what you can do until you try." Ms. Pierre-Charles developed "Number Talks," a school-wide initiative designed to support students' math fluency and efficiency. She says, "My rigorous classroom environment consistently demands students excel beyond what they can even think or imagine."

Douglas Rebecca (High School Adaptive Physical Education, or APE, Teacher, P.S. K721 Brooklyn Occupational Training Center, Brooklyn)

Every day Douglas Rebecca advocates for his students, creating lesson plans and opportunities that allow them to succeed independently. His colleague says: "Mr. Rebecca truly embodies the title of an APE teacher. He created access for students to sports. Mr. Rebecca will modify any activity to ensure that all students participate. Whether it is wheelchair hockey or adaptive swimming, Mr. Rebecca makes sure everyone has a chance."

David Roush (High School Media Communications Teacher, Harry S. Truman High School, Bronx)

"I didn't choose teaching; teaching chose me," says David Roush. Mr. Roush makes the classroom feel like a real television production studio, holding five-minute 'staff meetings,' and then releasing students to complete their work. He goes above and beyond to create opportunities for his students, like coordinating a Saturday morning internship program with CBS News. Classmates hold each other accountable for their successes through a positive and safe environment that supports and accelerates learning. One student says: "He helps all his students equally and shows us no matter where you come from, we are all like a family."

Danielle Tutelian (High School Mathematics Teacher, Bronx High School of Business, Bronx)

Danielle Tutelian became a teacher because she wanted to instill the same passion she has for learning into others. Students are held to high expectations and are given opportunities to take on leadership roles within the classroom. Through the Teacher Assistant Scholar Program, Ms. Tutelian is training the next generation of math teachers by empowering students to become teacher assistants. Ms. Tutelian devotes a period every morning to meet with students and support them in planning effective student-led lessons.

Jo Ann Westhall (Elementary Computer Science & Technology Teacher, P.S. 31 The Bayside School, Queens)

Jo Ann Westhall says, "The passion to make a real lasting impact on the lives of children and families in the community drove me to become an educator." In 2014, there was no computer science curriculum at Ms. Westhall's school. This year, the school hosted their third Citywide Showcase for computer science, and Ms. Westhall is at the center of this change. She has developed the "Code Ambassadors" program, through which her fourth- and fifth-grade student lead computer science centers called "Code Café" in lower-grade classrooms.