This New York City charter network is taking its lessons to toddlers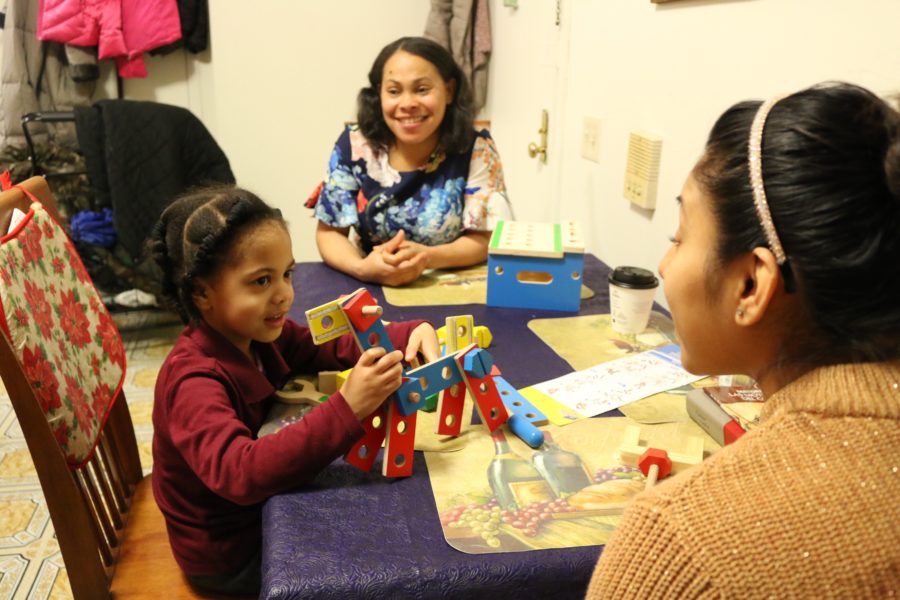 Preschool is already too late, if you ask Ian Rowe.
The head of Public Prep charter schools in New York City believes that, when it comes to setting students up for academic success, the key is starting earlier. Much, much earlier.
That's why the network has teamed up with a pair of nonprofits to start getting children ready for school when they're just toddlers — a full two years before even enrolling in pre-K. The unique partnership sends trained mentors to meet with families in their own homes, helping moms and dads guide their child's earliest learning experiences.
"We found ourselves having to play catch up in kindergarten, and that was always a challenge," Rowe said. "If we could get to our kids earlier, then obviously we would have a headstart and get better outcomes."
Public Prep has five single-gender campuses in the South Bronx and on the Lower East Side, serving mostly children who come from low-income families. Poverty can have profound effects on students, setting them back academically and making them less likely to start kindergarten with the early math and literacy skills they need to succeed in school.
Rowe felt his network needed to start tackling those opportunity gaps before they have a chance to open. So Public Prep turned to the nonprofits Parent-Child Home Program and Rising Ground to work with prospective students and families at their own kitchen tables and on living room floors.
These aren't the types of parent conference visits that teachers may arrange in students' homes. Rather, they are part of a range of home visiting programs that rely on trained professionals to establish long-term bonds with families. Done well, research has shown they may eventually boost high school graduation rates, raise test scores, and teach students to more effectively regulate their emotions in the classroom.
"Home visiting, it's the 'pre' preschool," said Karen Howard, vice president of early childhood policy at the D.C. advocacy organization First Focus. "Just with preschool, it's not enough. When they fall behind, they're really behind."
Public Prep's program works with the younger brothers and sisters of current students, starting when they are 18-months old. Since siblings receive an admissions priority at charter schools, the hope is that the little ones will eventually enroll in Public Prep — and that, if they do, they'll be better prepared to learn from the first day of classes.
Ysmeiris Novas couldn't find a preschool near her Bronx apartment for her youngest daughter, Hadasa Florian. When she found a flier for the home visiting program in her older son's backpack, Novas called right away to join. She didn't hesitate to let a stranger in her home since she already trusted Public Prep schools: Her two older sons are enrolled in the network.
On a recent visit, little Hadasa scanned a pile of wooden blocks on the kitchen table, picking out the pieces she needed to build a horse. Novas nudged her four-year-old to name the different colors she saw and recalled the time mother and daughter saw a real horse at the zoo.
During this playtime session, Hadasa learned to follow instructions and a few new words — such as "screwdriver," which she needed to connect block pieces. But Novas picked up some skills, too: putting into practice what she has learned from a home visitor who helped guide their interactions. Nova said she is already seeing results for her daughter.
"I've noticed that she likes to learn, and it's because she's seeing through the program how she's learning," Novas said. "If not for this, she wouldn't know so much."
The interactions are timed to meet toddler attention spans: They take place for half an hour, two times a week. Visitors bring age-appropriate books and toys for the families to keep, using the materials to model the kinds of interactions that form the foundations of both academic and social learning.
That could mean asking open-ended questions about what might happen next in a story, elaborating on answers rather than just saying "no" to a child's request, and offering comforting physical contact. The home visitor is also there to explain what's developmentally-appropriate to expect from a child's behavior or when meting out discipline.
In homes where parents face economic challenges, or are isolated without much support, such moments can get pushed aside.
"We really focus on the quality and quantity of parent-child interaction," said Sarah Walzer, the head of PCHP. "If we do that piece, what emerges at the end of the program is a child who has the social-emotional and language skills to walk into a classroom."
Ultimately, PCHP wants parents to have positive experiences that will turn them into advocates for their child's education.
"They've very successfully been their child's first teacher, and now they are a critical support as their child moves through school," Walzer said.
The partnership is one of just a few across the country that link schools with home visiting programs. PCHP works with some districts on Long Island that pay for home visits using federal money dedicated to serving low-income students. And in Massachusetts, money is funneled to school districts and home visitors are considered district employees.
Still, teaming up in this way is rare. Walzer offered some theories for why: Upfront costs are steep, and the runway for returns is so long that results may not roll in until after a school superintendent is long gone.
Public Prep, however, thinks the investment is worth it. The network raises private money to pay for its program, which costs up to $5,000 annually per child. Though the price is significant, Rowe hopes the payoff will be, too.
While PCHP has not yet obtained the federal government's highest stamp of approval for effectiveness, a host of studies have shown that students in the program have stronger social skills and higher test scores. Other research has found that children who participated in the PCHP model were significantly less likely to be referred for special education services — potentially yielding savings of $200,000 per student.
"It sounds expensive but if done properly, we're saving a huge amount down the road," Rowe said.